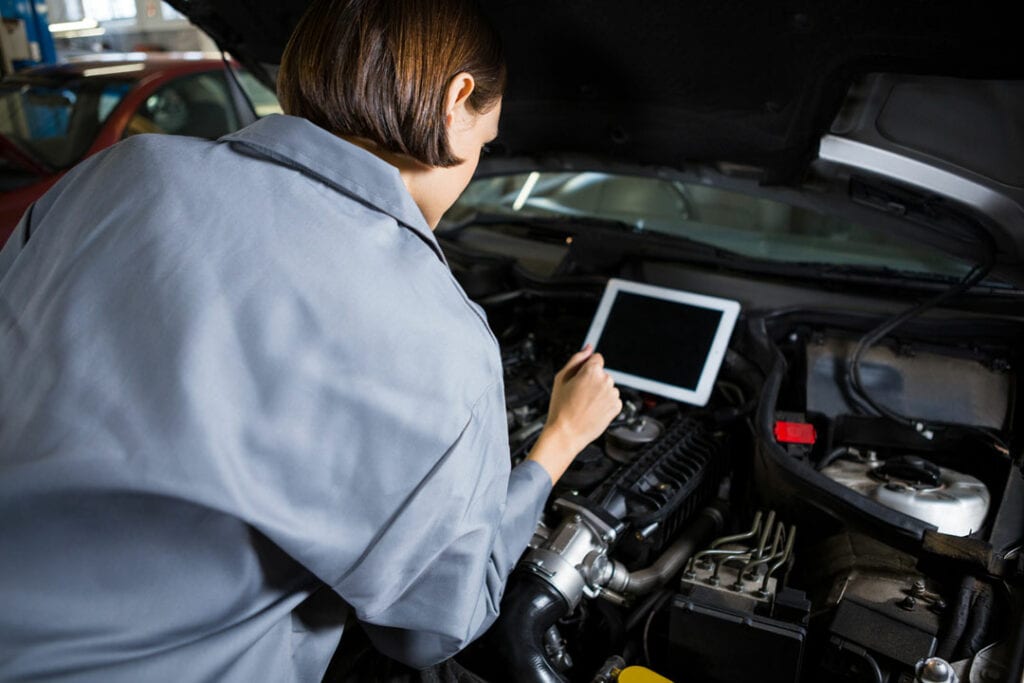 The world's first popularized hybrids started with the Toyota Prius in 1997, and you might have one just as old. Hybrid cars are built to last, but eventually, your vehicle, like any car, will need maintenance. 
While that might sound scary, hybrid car maintenance costs do not have to be expensive. Most processes and costs for maintaining your hybrid vehicle will be no different than with a regular car. 
By design, hybrid cars will save money over regular cars in some ways. For instance, since hybrid engines run less during low speeds, a hybrid model will not need oil changes nearly as frequently as a regular car.
However, hybrids will have some specific needs to keep in mind. Below, we will discuss some notable routine hybrid car maintenance needs and their prices compared to regular car repairs. 
Transmission Fluid Changes and Flushes
While both standard and hybrid cars will need transmission fluid changes at higher mileages, hybrid cars often require continuously variable transmission (CVT) fluid. 
When compared to automatic transmission fluids (ATF), the prices are very similar. When comparing both fluids from the same store, prices ranged between $6–$9 per quart, depending on the brand and manufacturer grades. You will need several quarts of fluid for a change, so the price will likely be around $45. 
You can buy these fluids from auto parts stores and change them yourself to save some money, but many prefer to visit dealers, mechanics, or service centers. Service costs and tax could increase the cost up to $250, but whether your transmission fluid is ATF or CVT should not make much of a difference. 
While your hybrid car may require a different transmission fluid than a regular car, the prices are remarkably similar and inexpensive. 
Cooling System Maintenance
Hybrid cars come with a cooling system near the electric motor that keeps the motor components from overheating. These systems contain a heat exchanger, an electric pump, and a coolant reservoir. Depending on your make and model, your car may have one cooling system for the inverter and one for the engine. 
While all cars regularly need antifreeze to run smoothly over time, hybrid cars often require specific kinds of coolant. Like with transmission fluid, a mechanic or service center can perform coolant exchange services, but it is usually cheaper to do the job yourself. 
Let's compare the coolant prices. The Toyota-prescribed Prius coolant is the Toyota Super Long Life Coolant (SLL), priced at $22 per gallon on average. For regular cars, coolant prices vary significantly from about $11 per gallon to $30 per gallon, depending on the car type and fluid quality.
Hybrid coolant has a chance of being more expensive than other coolants, and you may need twice as much if your car has two reservoirs. However, hybrid coolants like the Toyota SLL are made to last at least 50,000 miles, so you won't have to make that investment often. 
Hybrid Battery Replacements
While both conventional and hybrid vehicles contain 12V batteries, a hybrid vehicle has the addition of a special hybrid battery. Hybrid batteries are tough and long-lasting. If your hybrid battery is well taken care of, it will not need replacing for around 200,000 miles. Some states require manufacturers to include a hybrid battery warranty up to 150,000 miles, but other warranties only cover up to 100,000 miles.
However, the miles add up quickly, and you may eventually need a battery replacement. The costs for these procedures vary based on the extent of battery damage.
Dead or damaged cells are the primary cause of battery failure. The typical repair cost escalates depending on the number of damaged cells, ranging from about $500 at the cheapest to around $2,000 if most cells are dead. With this extent of damage, it may be cheaper to replace the battery in its entirety. 
The typical price for a regular car battery replacement at a dealership is around $300 for labor but varies based on taxes and service costs. 
While hybrid battery replacement costs are far greater than regular car battery replacement costs, hybrid batteries have much longer livelihoods, especially if well maintained. Taking care of your battery and using batteries with great cooling systems are ways to save money on hybrid car repairs effectively. 
Hybrid Car Maintenance Tips
Taking care of your hybrid vehicle is the best way to prevent needing expensive repairs. Here are some tips to help ensure the longevity of your car and the safety of your investments:
Routinely change your transmission fluid and coolants. Neglecting these leads to faster battery deterioration. When changing these fluids, make sure that there are no leakages, which can also cause damage.

If you need new parts, don't invest in anything without a warranty. Check to see if you are eligible for manufacturer warranties before buying new parts.

Consider upgrading your hybrid battery. A battery with a better cooling system and

circulation configuration

can help your hybrid model last much longer. In the long run, it means less money spent on repairs and battery reconditioning.
Exclusively Hybrid Batteries
Your battery is tantamount to your hybrid vehicle's lifespan and performance. A good battery can be the difference between saving money and high, recurring expenses. 
Exclusively Hybrid can help with your upgraded battery needs for hybrid Toyota and Lexus vehicles. Our batteries have custom cooling and circulation technology that makes them work better and last longer, helping you avoid some potentially expensive repairs. 
We sell both reconditioned and brand new batteries, each with below-retail prices and warranties up to 50,000 miles or four years. There are no middlemen in our business practice, meaning we can supply you with new or reconditioned batteries that work well for a fraction of the cost. 
Are our hybrid car maintenance costs higher? They do not have to be. Routine upkeep and an Exclusively Hybrid battery are the best preventatives for high maintenance costs. Contact us or visit our website for more information about our hybrid batteries that last.