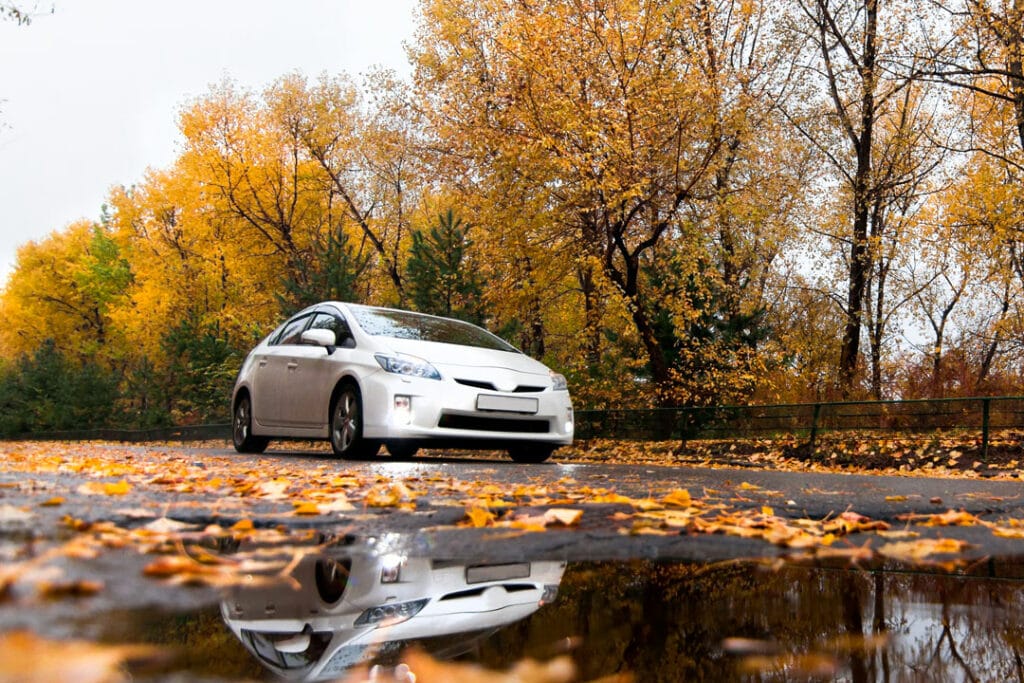 If you are looking to protect the planet and reduce the impacts of global warming, you may want to think about the type of car you drive. In 1999, the first sales of hybrid cars occurred, according to the Bureau of Transportation Statistics. 
By 2010, plug-in electric vehicle sales started and, three years later, hybrid automobiles took up 3.2 percent of the light vehicle market. However, by 2019, plug-in hybrid vehicles and electric cars took up 2.1 percent of the light car market.
You may think that affordable hybrid cars don't exist, but there are brand-new hybrid vehicles out on the market that you can likely afford. You can help protect the planet without it breaking your car budget.
According to U.S. News & World Report, the nine best affordable hybrid cars available right now include:

Here is a bit of information on each, so you can make an informed decision.
2021 Hyundai Elantra Hybrid
The 2021 Hyundai Elantra Hybrid boasts impressive fuel economy matched with a tough powertrain and plenty of features. The safety ratings are above average, as well as the reliability scores for this vehicle.
The Elantra Hybrid is a first for 2021, so there aren't any previous years available unless you choose a non-hybrid. With seating for 5, the interior features split-folding rear seats for extra space.
The comfortable seating offers plenty of legroom but beware of the slope towards the back if you have any tall rear passengers.
2021 Toyota Avalon Hybrid
The 2021 Toyota Avalon Hybrid is the most expensive vehicle on this list, but this is due to its larger size. Even though the Avalon Hybrid is expensive, the vehicle saves you up to $600 on fuel per year. 
This vehicle has plenty of seating space and an enormous trunk for storing luggage or other items. It also features excellent crash test ratings. You'll enjoy a comfortable drive and plenty of power. However, its acceleration is not at the top of the line.
If you're not looking for a brand-new hybrid vehicle, you can take a look at some of the best used hybrid cars under $15,000.
2021 Toyota Prius Prime
The Toyota Prius Prime has a range of 25 miles and is a plug-in hybrid vehicle. This car will also make you eligible for a U.S. federal EV tax credit that totals $4,502. The cargo capacity of a Toyota Prius Prime is higher than average, and it has high-quality seating.
However, the performance and acceleration of this hybrid automobile are not very impressive. Nonetheless, you'll enjoy the heated front seats and the 7-inch touch screen. 
2021 Toyota Prius
The 2021 Toyota Prius is a highly fuel-efficient vehicle and is one of the least expensive brands for a hybrid car. Its predicted reliability rating is at an average value, and it provides a smooth ride.
There is plenty of cargo space, and the car's handling is excellent as well. Along with its superior fuel efficiency, you can buy a Toyota Prius with an all-wheel drive. This vehicle also features a 7-inch touch screen with an Amazon Alexa.
2021 Honda Accord Hybrid
The 2021 Honda Accord Hybrid has a spacious and nice-looking cabin, plenty of trunk space, and comfortable, supportive seats.  It belongs to a generation of cars that gain high ratings for safety. However, its predicted reliability rating is below average.
If you drive a Honda Accord Hybrid, you will enjoy significant acceleration, strong ride, and good handling. It holds advanced safety features and comes with an 8-inch touch screen.
2021 Toyota Camry Hybrid
The 2021 Toyota Camry Hybrid has an average price that aligns with most hybrid vehicles. In addition, its total ownership cost is approximately $41,383. Furthermore, it has excellent fuel efficiency, which is similar to smaller cars. It also has a better-than-average predicted reliability rating.
This car has lots of trunk space, large seats, and a well-designed cabin. With this car, you'll enjoy a comfortable, gentle ride with solid acceleration. 
2021 Honda Insight
When looking for affordable hybrid cars, the cheapest hybrid car on our list is the 2021 Honda Insight. Despite being cheaper than other options, the 2021 Honda Insight is one of the most fuel-efficient vehicles out there.
This car has excellent car crash test ratings and plenty of room for cargo. While the front seats have lots of space, the lack of headspace in the back may not please taller passengers. It also comes with an 8-inch touch screen.
2021 Hyundai Sonata Hybrid
The 2021 Hyundai Sonata Hybrid comes at a reasonable price below $30,000 for a midsize vehicle. However, its total cost of ownership is about $43,500. It also comes with an extended warranty and an impressive predicted reliability rating. 
This vehicle has:
Various safety features

Comfort

Plenty of trunk space

You'll enjoy an effortless ride and the car's spacious seating. Furthermore, this vehicle comes with an 8-inch touch screen and plenty of power for drivers.
2021 Toyota Corolla Hybrid
This vehicle has a five-year cost of ownership that is only $34,780, which is much lower than other typical hybrid automobiles. The 2021 Toyota Corolla Hybrid is a practical option out of all potential hybrid cars.
It has a nice-looking cabin and impressive crash test ratings. You'll see good handling and a strong ride from the Toyota Corolla Hybrid. 
There is plenty of seating space, but it has a small trunk and may not feature enough room for taller passengers. Nonetheless, it encompasses an excellent regenerative braking system.
Keep Your Hybrid Vehicle Maintained
You might be researching your very first hybrid – but you could also be looking to upgrade your current hybrid because it doesn't run like it used to.
After so long, a hybrid battery can start to wear. How long should your battery last, and how do you know if it's faulty? Check the signs here.
When your hybrid car's battery has worn out, you can purchase our new or refurbished hybrid car batteries. We offer high-quality hybrid batteries for Lexus and Toyota at far better prices than you'd find at a dealership. Click here to contact us today!